Garmin DriveAssist™ 51 LMT
SIMPLIFY YOUR DRIVE
Enjoy camera support behind the wheel with Garmin DriveAssist, the GPS navigator that combines a built-in dash cam with turn-by-turn directions and driver alerts to keep an eye out for you.


Be road trip-ready with a big, bright 5" display and easy-to-see maps.


Did you see that? The built-in dash cam did. Recorded it, too.


Talk to me. Enjoy convenient voice-activated navigation and hands-free calling1.


No computer? No problem. Built-in Wi-Fi® technology wirelessly updates maps and software.


Save the dash cam footage you want with the included microSD™ memory card.


Make all the right moves with clear, detailed map updates of North America.
The built-in dash cam is your trusty eyewitness.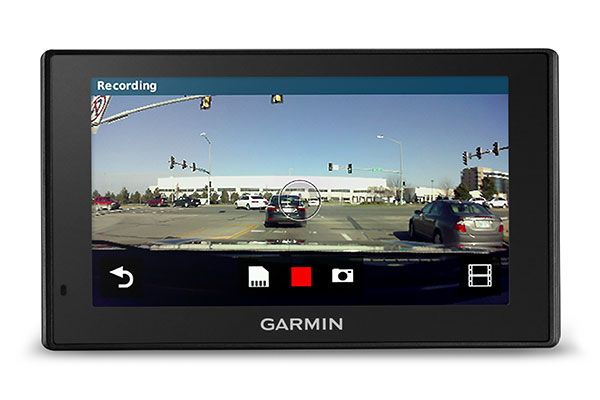 BUILT-IN DASH CAM
For an eyewitness account when you need it most, the lens is your friend. The dash cam automatically records and saves video of incidents. And GPS records exactly when and where events happened2.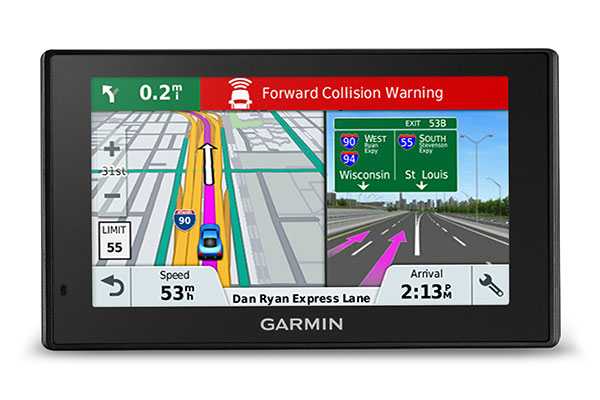 FORWARD COLLISION WARNING
Camera-assisted driver alerting features on Garmin DriveAssist include forward collision warnings3 if you're driving too closely to the vehicle ahead.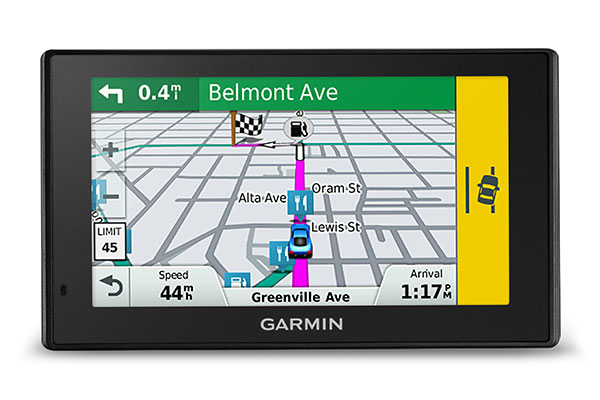 LANE DEPARTURE WARNING
Enabled by the built-in dash cam, the lane departure warning3 alerts if you drift off the road or into oncoming traffic.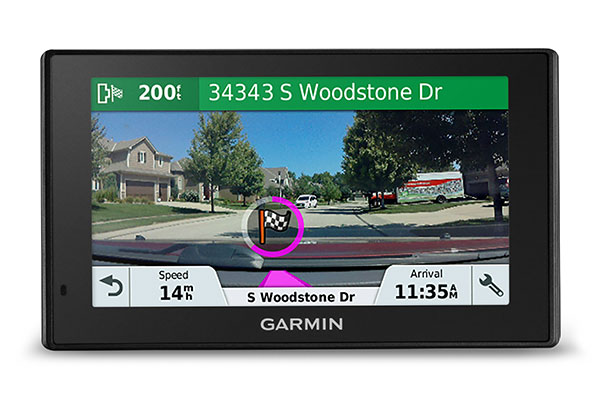 GARMIN REAL VISION™
No more searching for house numbers. As you approach your destination, the navigation display switches to a camera view, and an arrow points to where you need to go.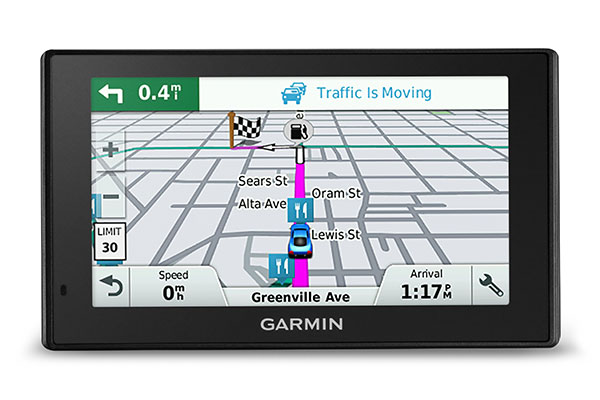 "GO" ALERTS
When you're stopped in traffic, a "Go" alert notifies you when the traffic ahead has started to move again. So you can get rolling before others start honking.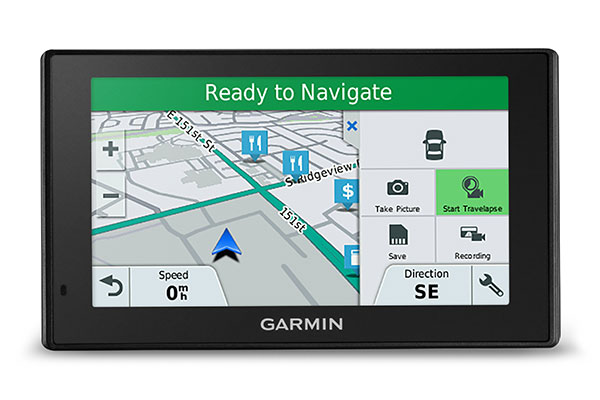 TRAVELAPSE™
This feature lets you use dash cam footage and the VIRB® Mobile app on your smartphone to create a short video recap of your road trip and share it on social media.
Just look ahead and drive.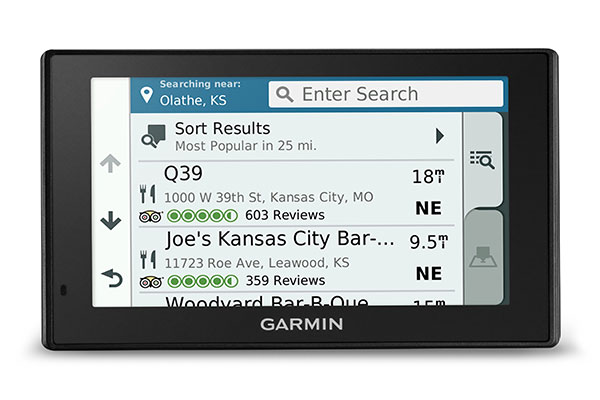 TRIPADVISOR®
View TripAdvisor traveler ratings for hotels, restaurants and attractions along your route or near your destination.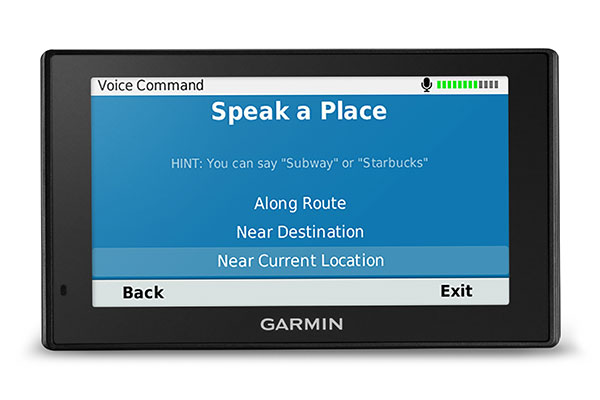 VOICE-ACTIVATED NAVIGATION
Need directions? Just say the word. Garmin DriveAssist responds to your voice commands and then navigates to wherever you need to go.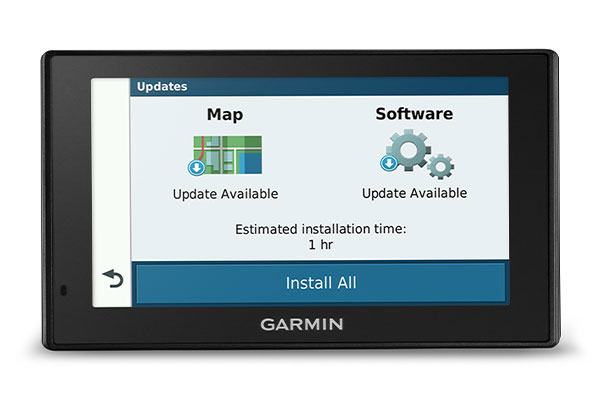 WIRELESS UPDATES
Built-in Wi-Fi connectivity makes it easy to keep your maps and software up to date without using a computer. On-screen cues show when new updates are available.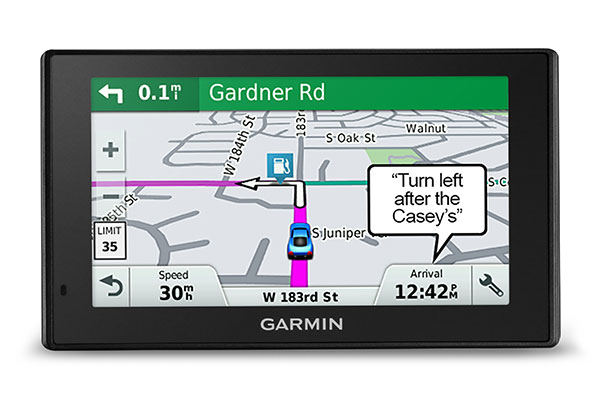 GARMIN REAL DIRECTIONS™
Easy-to-understand, spoken turn-by-turn directions guide like a friend, using street names, store names and recognizable landmarks.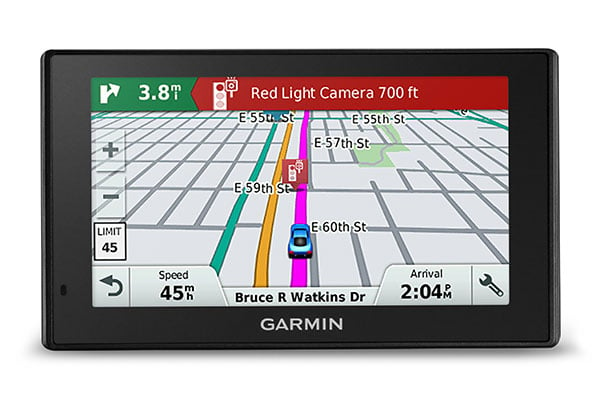 DRIVER ALERTS
To encourage safer driving and increase situational awareness, driver alerts warn you of upcoming sharp curves, speed changes, railroad crossings and more.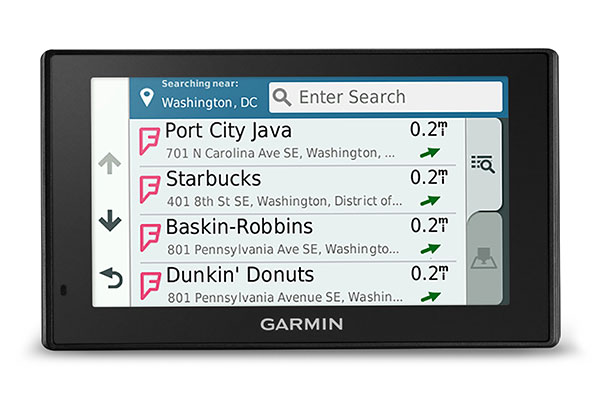 FIND PLACES BY NAME
Preloaded Foursquare® data makes it easy to find new shops, restaurants and millions of other popular places.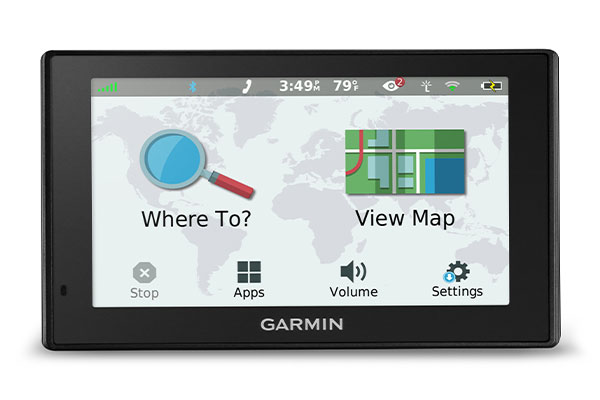 MAP COVERAGE
Drive confidently with the latest map updates and preloaded street maps for the U.S., Mexico, Canada, Puerto Rico, U.S. Virgin Islands, Cayman Islands and Bahamas.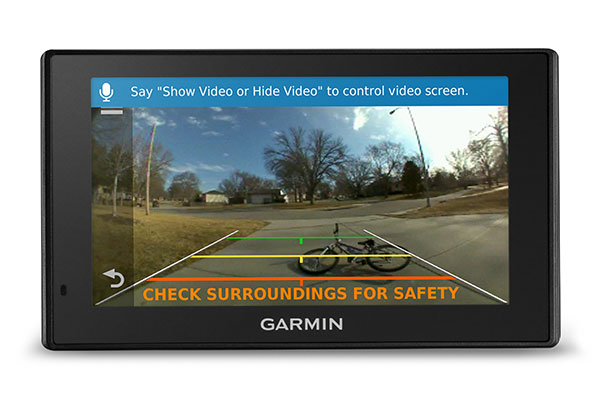 WANT MORE?
From personal navigation and dash cameras to backup cameras and Alexa-enabled technology, Garmin has you covered from all angles. Find the right device for your drive.