""" SCROLL DOWN PAGE TO CHOOSE THE BUNDLE OFFER OPTION"""
MUSIC FOR THE EXTRA MILE
You do the running. This GPS running smartwatch does the thinking. It even gets to know you, mile after mile and song after song.



Here's something to sing about: music storage right on your wrist.


Monitor your training load to see if you're fully owning it or just overdoing it.


Prep for your next race like a boss with free Garmin Coach adaptive training plans.


Finesse your form by tracking running dynamics1.


We'll watch your back for you with incident detection and assistance features2.


Up to 6 hours in GPS mode with music — that'll take you all the way to the finish.
A DESIGN THAT CUTS BACK ON BULK
It's sleek and lightweight — perfect for running and everyday wear.
THESE MATERIALS ARE READY TO RUN
Featuring a sweatproof silicone band and durable Corning® Gorilla® Glass 3, Forerunner 245 Music can handle whatever's ahead.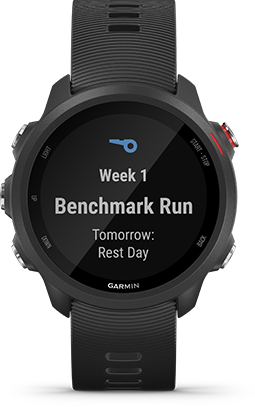 GARMIN COACH
These adaptive training plans feature guidance from expert coaches and free training plans that adapt to you and your goals. Workouts sync right to your watch.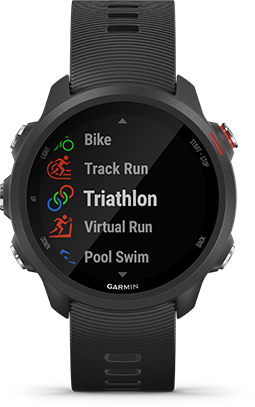 BUILT-IN SPORTS APPS
Switch up your workout routine with activity profiles for cycling, pool swimming, track running, elliptical, stair-stepper and more.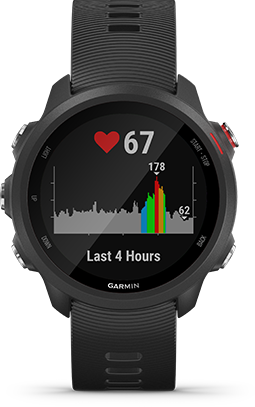 WRIST-BASED HEART RATE
Get heart rate data3 along with alerts if your heart rate stays too high or too low while you're at rest. Gauge how hard your heart is working during activities, even underwater.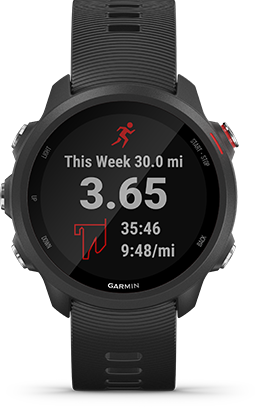 BUILT-IN GPS
Track where you run, and get accurate stats, including distance, pace and intervals.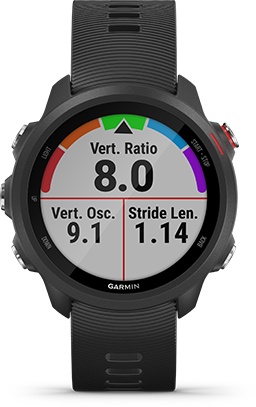 RUNNING DYNAMICS
When used with a compatible accessory, Forerunner 245 Music measures crucial running metrics such as cadence, stride length, ground contact time and balance and more.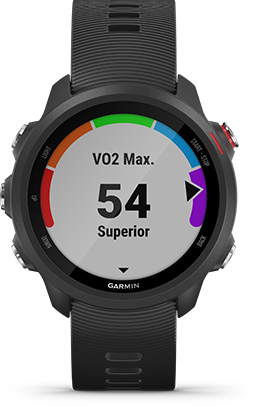 VO2 MAX
Train smarter with VO2 max, an indicator of how you can expect to perform. This metric even accounts for changes in performance that could be caused by heat or altitude.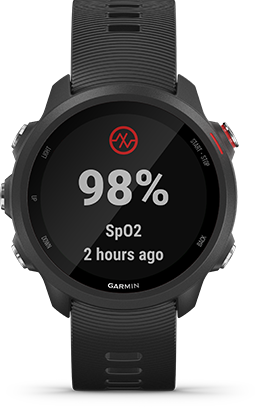 PULSE OX SENSOR
This wrist-based sensor estimates your body's blood oxygen saturation4, which can help gauge how your body is absorbing oxygen — especially while you sleep.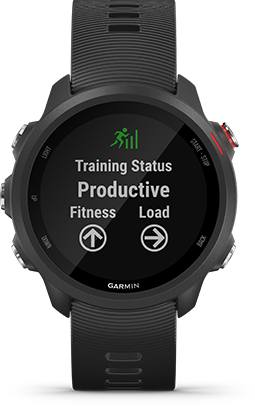 TRAINING STATUS
This metric evaluates your recent exercise history and performance indicators to let you know if you're training productively, peaking or overreaching.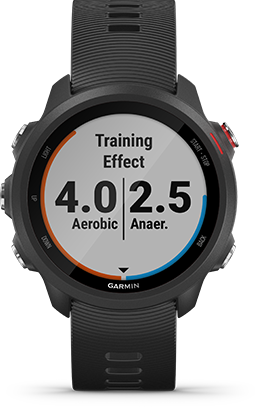 TRAINING EFFECT
See how your workouts influence the development of endurance, speed and power with aerobic and anaerobic training effect feedback.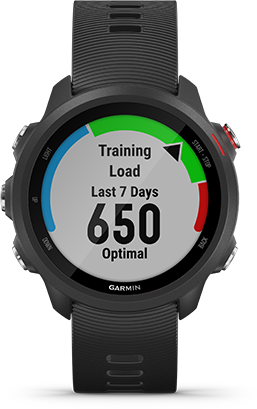 TRAINING LOAD
This stat measures your exercise volume from the last 7 days and compares it to the optimal range for your fitness and recent training history.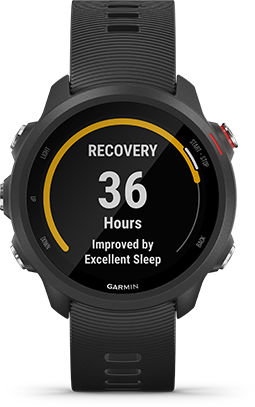 RECOVERY TIME
After each workout, the built-in recovery time advisor lets you know how long to rest before another big effort. It even accounts for all-day stress, sleep and daily activity outside of workouts.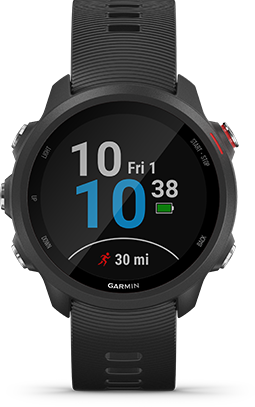 BATTERY LIFE
Run your heart out with a watch that's got the power to keep up. You'll get up to 7 days of battery life in smartwatch mode and up to 6 hours in GPS mode with music.
A healthy outside starts from the inside.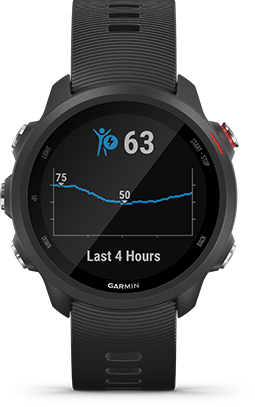 BODY BATTERY™ ENERGY MONITOR
Track your body's energy levels so you can find the best times for activity and rest.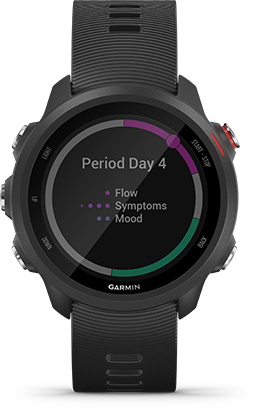 WOMEN'S HEALTH TRACKING
Use the Garmin Connect™ app to track your menstrual cycle or pregnancy. Log symptoms, get exercise and nutrition education, and more. Even get details on your wrist with the Menstrual Cycle Tracking widget and Pregnancy Tracking app.
Stay connected on the run.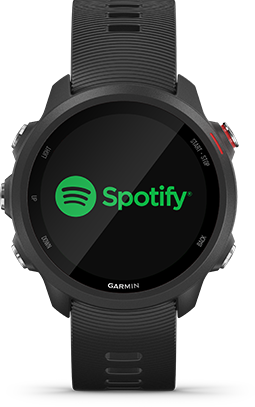 MUSIC ON YOUR WRIST
Sync your playlists from select music streaming services5 — such as Deezer, Amazon Music and Spotify® — right to your watch. Forerunner 245 Music can store up to 500 songs.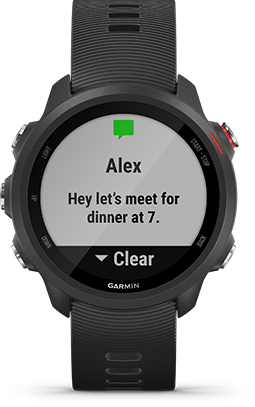 SMART NOTIFICATIONS
Receive emails, texts and alerts right on your watch when paired with a compatible smartphone.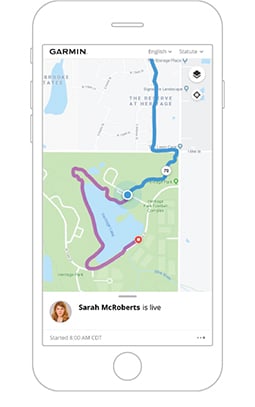 LIVETRACK FEATURE
Use LiveTrack to let friends and family follow your real-time location6 and even view your entire preplanned course. Rest assured that your loved ones know exactly where you're running.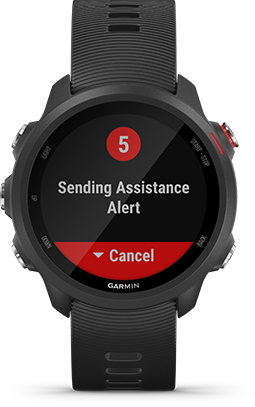 SAFETY AND TRACKING FEATURES
If you feel unsafe or if your watch senses that an incident occurred, assistance and incident detection features2 send your location to emergency contacts.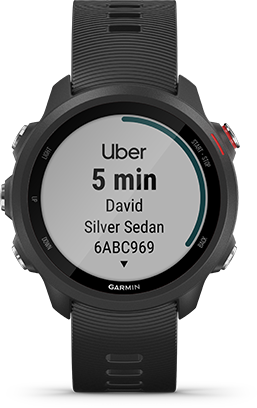 CONNECT IQ™ STORE
Download custom watch faces, add data fields, and get apps and widgets from the Connect IQ Store.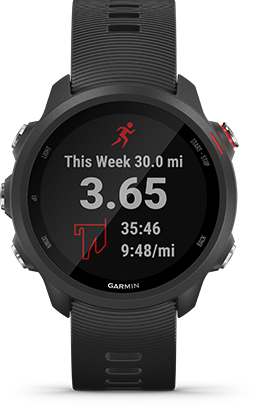 SYNCS WITH GARMIN CONNECT™
Upload your activities to the Garmin Connect app to interact with a thriving online community where people on the go can connect and compete — and even share their triumphs via social media.